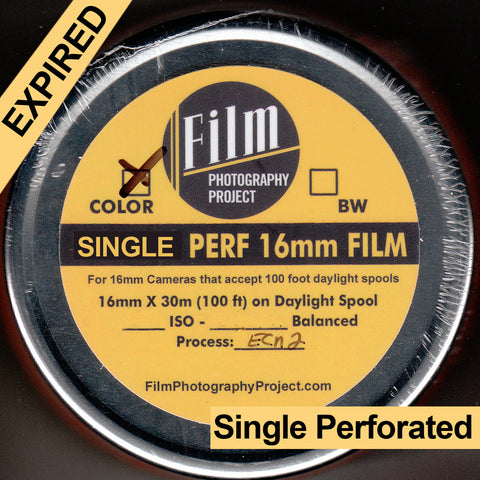 16MM FILM - SINGLE PERF - KODAK HIGH SPEED 500T (EXPIRED) - 100 FT
Please read all of the information on this page before ordering as motion picture film is not returnable.
Kodak Vision 7279 High Speed Color Negative (expired circa year 2000)
ISO 500 Tungsten (Consider shooting at 200 iso to compensate for age)
The FPP has not tested this stock - 4 rolls available
Refrigerator stored while at FPP - Storage unknown before FPP acquired
Single Perf on a 16mm Daylight Camera Spool
One 100 ft roll (30m)
Price includes film only. The FPP offers Develop/Scan services which you can purchase separately HERE.
As with most expired film, expect higher grain and color shifts. Your results may vary.
The Film Photography Project can process/scan your movie film.
Visit our 16mm Process / Scan Page.
Terms – With the rare exception of a film product recall, user issues with film are a by-product of the deterioration of parts in the vintage cameras used to shoot the film. Even functioning and previously tested vintage cameras may experience motor film transport issues, film breakage, light leaks, over-and-under-exposure, and emulsion scratches. We feel it is important to bring your attention to these risks as we do not accept returns, offer replacement film or refunds on 16mm movie film. 
---
We Also Recommend