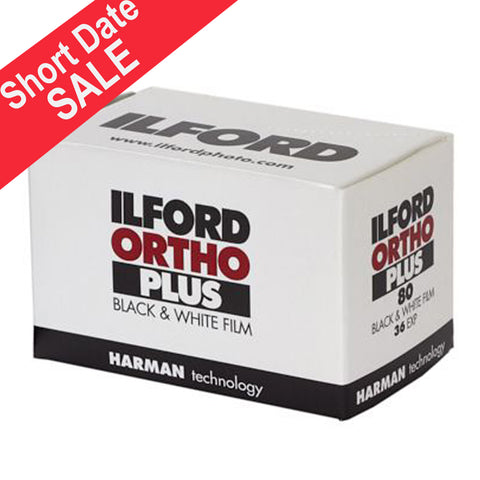 35mm BW Film Ilford Ortho Plus - Short Dated (1 Roll)
Ilford Ortho Plus 35mm BW / 36 exp / iso 80 daylight / DX-Coded
Short date Sale - Expired January 2023 or later

ILFORD ORTHO Plus black and white film is an Orthochromatic film. While it is mostly used for continuous tone copy work in an industrial situation, the film is used by film photographers for portrait work and landscapes. Ortho films render very different BW tones that make your photography stand out.
The blue and green sensitivity enables the film to be handled in red safe-light and allows processing by inspection, meaning you can load and unload film onto your home development reels using our Jr Red Safe-light.
ILFORD ORTHO PLUS is DX coded for ISO 80 for daylight / natural light shooting. For tungsten work a manual ISO setting of 40 should be used. Alternatively, a 1 stop exposure correction can be made. Whether shooting at ISO 80 or 40, it can be processed as standard. Development times can be found in the technical data sheet or on the inside of the film cartons.
What is Orthochromatic film? Read the blog by Leslie Lazenby.
above: Image by Natalie Oberg on Ilford Ortho Plus - https://www.instagram.com/natalieanalog/
---
We Also Recommend