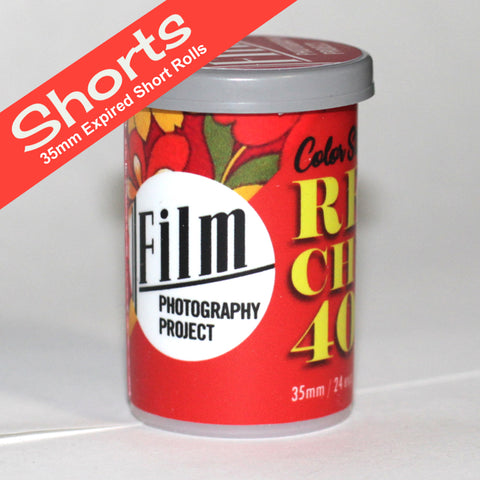 35mm Chrome - Ektachrome FPP RetroChrome 400 (Short Roll)
FPP RetroChrome 400 Color Slide Film
FPP SHORTS are rolls of film that are extra rolls from each FPP hand-rolled batch. Each "short" will (randomly) have at least 12 exposures and up to 23 exposures per roll. The number of exposures will be written on the TAIL of each film roll.
35mm / ? exp / 400 iso (DX Coded for 400 iso) / E-6 Processing
LIMIT - 2 Rolls Per Customer Per Month
Your order may be cancelled in full if more than 2 rolls ordered  
What is FPP RetroChrome film?
RetroChrome is government surplus High Speed Eastman Ektachrome color positive film / daylight balanced.
The film is cold-stored 2004 expired. The film performs excellent at it's intended box speed of 400 iso which leads us to believe that this film has been stored in the "deep freeze" for the past decade. Read all about RetroChrome history in our RetroChrome blog!
How do I shoot FPP RetroChrome Film? Just load the film into your 35mm camera and shoot. If your camera is auto, it will detect the DX code and your all ready to shoot. If you have a manual 35mm camera set your iso to 400.
How do I develop FPP RetroChrome film?
Home Process - If you home-process, use the FPP E6 Kit.

Send it out - TheDarkroom.com - Send your Slide Film to The Darkroom for processing, scans and prints! Visit The darkroom's E6 Color Slide Page here - https://thedarkroom.com/e6-slide-film-processing/
Terms - Expired film - There are many factors that may create unsatisfactory results -  your handling, camera being used or lab. All sales of film in this category are non-refundable.
---
We Also Recommend