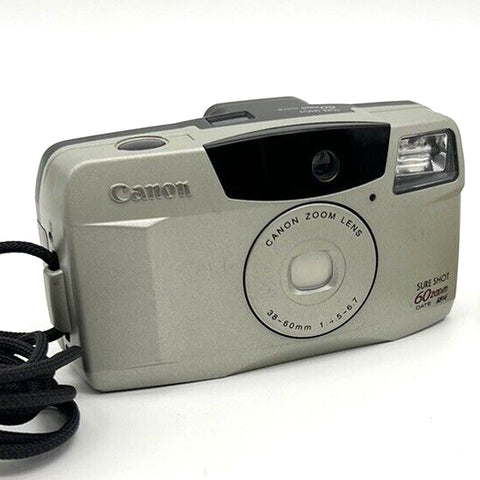 35mm Film Camera - Canon Sure Shot 60 Zoom (Silver Vintage)
Canon Sure Shot 60 Zoom (also known as the Autoboy Juno)
Includes new battery

The camera front's metallic-silver finish and the flat profile make this fully automatic zoom compact camera look fashionable. Small and light enough to be carried wherever you go. Other features include a 38-60mm zoom lens, 5-point autofocusing with Ai-AF, direct zoom viewfinder, and a mode dial on the camera back. All camera operations are quick and easy. A switch on the camera bottom switches between the normal and panorama mode. (Japanese version only) The date can also be imprinted in the panorama format.

Review: https://gabethinks.wordpress.com/2018/09/18/camera-review-canon-sure-shot-60-zoom/
Camera is vintage and may have a few scuffs and/or physical imperfections. These imperfections will not affect performance. Due to the cameras age, we do not grade the lens glass, inspect seals or test shutter accuracy. We do not accept returns.
---
We Also Recommend