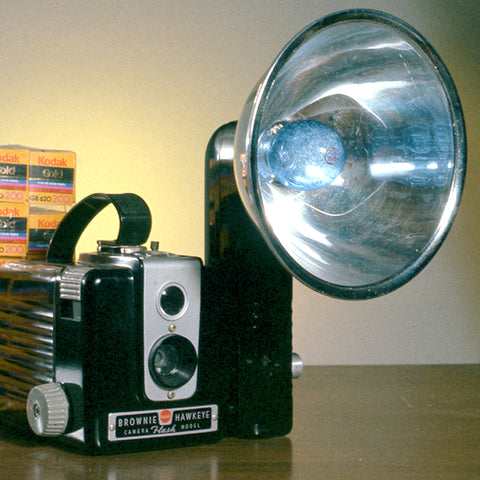 620 Film Camera - Kodak Hawkeye Flash (Vintage)
Kodak Brownie Hawkeye Flash 620 Film Camera
Fixed Shutter 1/50th sec / Fixed aperture ff11
Vintage, used and fully-tested. The perfect gift for you or a film friend!
Included:
Kodak Brownie Hawkeye Flash 620 camera (tested)
One roll of 620 BW film
Non pre-paid mailer for film developing / scans
Flash (tested - You will need two "C" sized batteries - not included)
#25 Flash flash bulbs
Additional 620 film available here! (100 - 200 iso film is recommended)
The awesome 1950 black molded Kodak Brownie Hawkeye Flash 620 film camera! It takes 12, square 2 1/4 by 2 1/4 images on each roll of 620 film (available here). It comes with a tested flash and is ready to shoot! See our FPP Kodak Hawkeye Flash video above.
Please note that this camera is fully tested by The (FPP) Film Photography Project. Camera is vintage and may have a few scuffs and/or physical imperfections. These imperfections will not affect performance. Due to the cameras age, we do not grade the lens glass, inspect seals, test shutter accuracy or accept returns. Does not include camera manual or original box. Photo posted is FPP stock image. We do not accept returns on vintage gear.
---
We Also Recommend