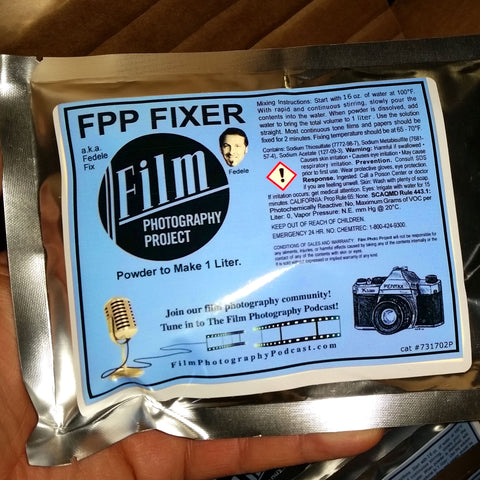 Darkroom Supplies - FPP Fixer (1 Liter)
Introducing our very own Fixer product in a convenient small 1-Liter size!
A general- purpose hardening fixer for films and papers
Mixes to working strength
Powder
Our 1 liter packet mixes to 1 liter of liquid. Fixing time 5 - 10 minutes. We recommend our 1-Liter recycled container to mix this. It's flexible which allows you to squeeze out extra air before re-capping.
We recommend our very own small-sized bw developers like our 1-Liter FPP D76 Developer or our 8oz sized FPP HC-110 Developer.
Fixer - What is it?
Photographic fixer removes the unexposed silver halide remaining on your film or photo paper. What remains are the exposed silver grains that make up your image. After fixing your film or paper you may expose it to light without damaging it. 
Fixer - How do I use it? Can I re-use it?
To use this fixer, mix it up according to package directions. Store it in a reusable container. Once mixed no further diluting is needed for use. Use it at a temperature that matches your developer.  When you are finished pour the fixer back into the container for reuse. 
Fix for 5 - 10 minutes with intermittent agitation. If it is not clearing all the milkiness from your film after 10 minutes it is time to mix a new package.
---
We Also Recommend