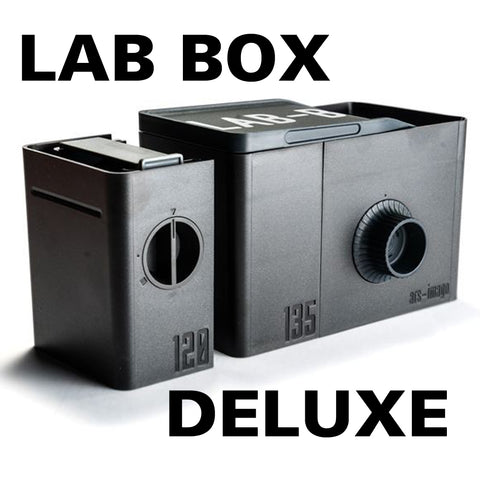 Darkroom Supplies - LAB BOX 35mm / 120 Deluxe Daylight Developing Kit
LAB BOX - daylight-loading film developing tank!
Develops 35mm, 120 and 620 film formats without needing a darkroom (or film changing bag)!
LABBOX is a multi-format tank that allows you to develop film from start to end, in full daylight, bypassing the need to load the rolls in the dark.
Includes:
LabBox Tank
D76 BW Developer Powder (makes 1 liter)
Fixer Powder (makes one liter)
2x 1 Liter Container (for mixing your chemistry)
LAB-BOX, HOW IT WORKS from ars-imago on Vimeo. More videos HERE.
Thanks to the two interchangeable modules and its multi-format reel, the tank can be used for both 35mm and 120 Medium Format Film.
Universal and Modular: with one tank it is possible to develop both 35mm and 120 film rolls, simply by switching the loading module.
Compact and Portable: its compact size allows for easy carrying, in a bag or a backpack.
Quick and Easy: film rolls can be loaded and developed in daylight, through an intuitive and simple process.
Versatile and Professional: it is perfectly suitable for beginners, but will also meet the needs of more experienced photographers, offering the possibility to experiment with different developing processes.
Not included but recommended:
Once developed you will need a scanner to scan your newly developed negatives. We recommend the Epson v800 (not included). We do not accept returns on open items.
---
We Also Recommend