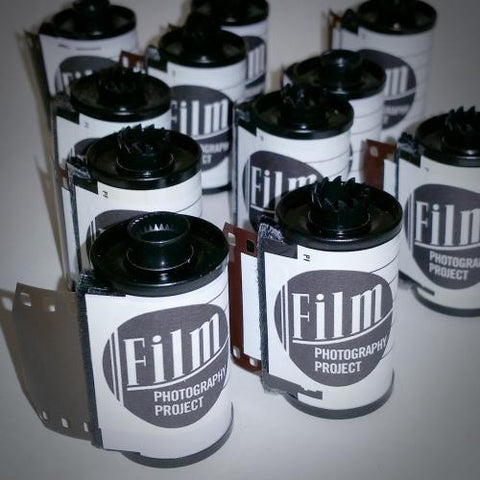 35mm Bulk Roll Supplies - Recycled 35mm Cartridges (Set of 10)
10 - Recycled 35mm Film Cartridges.
Cartridges are recycled and do not contain film - they are your loading your own using a Bulk Film Loader and 100 foot rolls of film.

As discussed on The Film Photography Podcast Radio Show, you can roll your own 35mm film cartridges - If you already own a bulk loader you may find yourself needing some 35mm cartridges.
Tips: Michael Raso of The Film Photography Podcast uses these cartridges all the time. He uses white artists tape and uses one generous piece on each side of the film (when connecting your bulk film to the cartridge.)
Here is his step-by-step process:
1. (above) Using 1" Artist's Tape, cut a generous piece. You'll need two pieces for each roll. 
2. (below) Affix the tape on the (non-shiny) emulsion side of the film cartridge as pictured below.
3. (above) Line up your film tongue to your film in the bulk loader and press so it sticks to your bulk film.
4. (below) Now place your second piece of tape on the top side of your film. It's now taped on both sides. Press firmly so that your tape is stuck. You can now roll the taped end into your cartridge, place the cartridge into your roller and roll away!

5. Remember, the tape is easily removable so you can use your cart over and over.
---
We Also Recommend