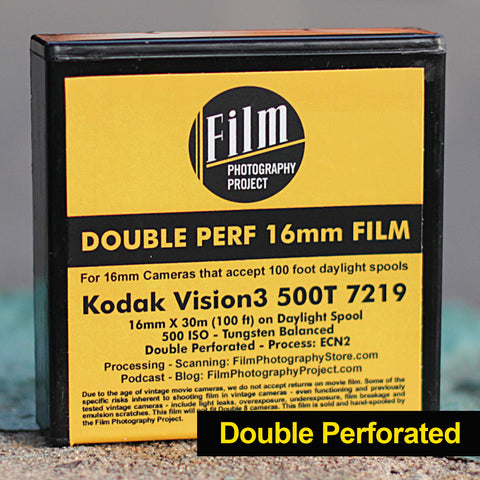 16mm Film - Double Perf - Kodak Vision3 500T 7219 - 100 ft
Please read all of the information on this page before ordering as motion picture film is not returnable.
DOUBLE PERF - Kodak Vision3 500T (Tungsten Balanced)
500 ISO / 100 ft Daylight Spool / Triacetate Base / Process: ECN-2
Why do I need Double Perf film? Real our BLOG. Cine 16 Double Perf is for all 16mm cameras that accept a 100 ft daylight spool.  (This film will not work in 8mm Bolex or other 8mm cameras)
KODAK VISION3 500T Color Negative Film 7219 gives you control and flexibility at every phase of the filmmaking process—from capture through post, in both digital and traditional workflows. VISION3 500T Film has outstanding skin tones and color reproduction, while adding technical innovations that improve product performance and increase product versatility.
The Film Photography Project can process/scan your movie film.
Visit our 16mm Process / Scan Page.
Save $$ - Purchase this film as a Film-Develop-Scan BUNDLE!
Terms – With the rare exception of a film product recall, user issues with film are a by-product of the deterioration of parts in the vintage cameras used to shoot the film. Even functioning and previously tested vintage cameras may experience motor film transport issues, film breakage, light leaks, over-and-under-exposure, and emulsion scratches. We feel it is important to bring your attention to these risks as we do not accept returns, offer replacement film or refunds on 16mm movie film. 
---
We Also Recommend