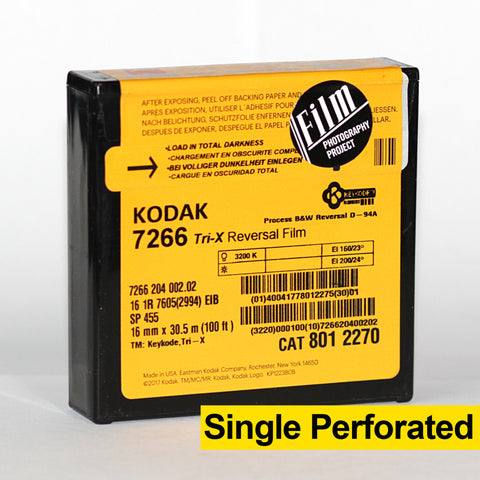 16mm Film - Single Perf - Kodak Tri-X BW Reversal - 100 ft
Kodak Tri-X - 100 ft (30m - Single Perf) on a 16mm daylight spool /200 iso / 
New, Fresh from Eastman Kodak and The Film Photography Project
This film is for all 16mm cameras that accept single perf 16mm 100 ft daylight spool. (This film will not work in 8mm Bolex or other 8mm cameras). We do not accept returns on movie film.
Savings! If you're not shooting Super 16 - consider our FPP Cine16 BW Reversal 100!

Tungsten (3200K) - 160 iso / Daylight - 200 iso
KODAK TRI-X Reversal Film 7266 (16 mm) is a high-speed, panchromatic black-and-white film with an antihalation undercoat that makes it suitable for general interior
photography with artificial light. It can also be used in daylight and is particularly useful for sports pictures taken at regular speed or slow motion in weak light
(overcast sky or late in the day). This film is characterized by excellent tonal gradation and sharpness. When processed as a reversal film, the resulting positive can be used for projection or for duplication. If processed as a negative material by conventional methods, the film will yield satisfactory results, although there will be some loss in speed and an increase in granularity.
The Film Photography Project can process/scan your movie film.
Visit our 16mm Process / Scan Page.
Terms – With the rare exception of a film product recall, user issues with film are a by-product of the deterioration of parts in the vintage cameras used to shoot the film. Even functioning and previously tested vintage cameras may experience motor film transport issues, film breakage, light leaks, over-and-under-exposure, and emulsion scratches. We feel it is important to bring your attention to these risks as we do not accept returns, offer replacement film or refunds on 16mm movie film. 
---
We Also Recommend