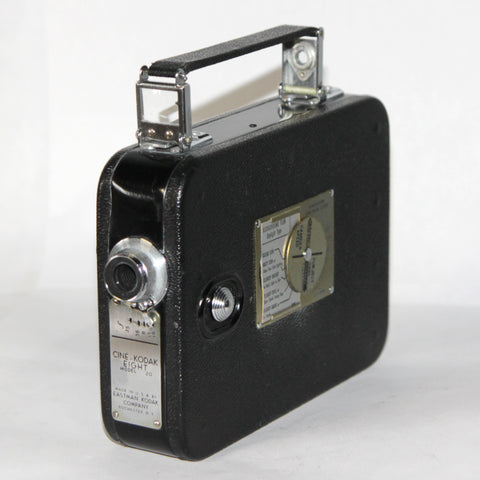 Regular 8mm Movie Camera - Cine-Kodak Model 25 (Vintage - Black)
Cine-Kodak Model 25 8mm Movie Camera (Black)
Fully tested. Ready-To-Shoot! Includes take-up spool. Film sold separately.
Cine Kodak Eight Model 25. Movie camera for standard 8mm film (Double 8 - 25 ft roll) f/3.5- f16  lens. Clockwork motor, approx. 30 seconds run per wind. Optical frame finder, with parallax indicator in folding handle.
Video below features Model 60 - operations are the same for Model 25.
Included:

Cine-Kodak Model 25 8mm Camera*
Uses Regular 8 (a.k.a. Double 8 / Cine8) film. Film not included but available here.
*Camera does not ship in original box and does not include instructions. Download the camera manual HERE.
Questions? Ask Mike Raso - Michael@FilmPhotographyProject.com
Camera will only shoot Double 8 film - Camera will not shoot Super 8 or 16mm film.
MANUFACTURER: Kodak USA
INTRODUCTION DATE: circa 1932
STANDARD LENSES: Cine-Kodak f3.5
SPEED: 16 frames / second
SHUTTER: 1/30th Sec
VIEWFINDER: folding Sports Viewfinder

HOW TO SET YOUR F-STOP
We recommend using hand-held light meter, light meter app based on the film ISO you are using and the 1/30th sec shutter speed. (Please DO NOT use the guide on the camera lens.) See our video on using a Light Meter App.
After processing  this gives 50 ft. of film (about 4 minutes showing).
Please note that this camera is tested before shipping to you. Due to the cameras age, we can not offer a guarantee on continued operation. 
---
We Also Recommend