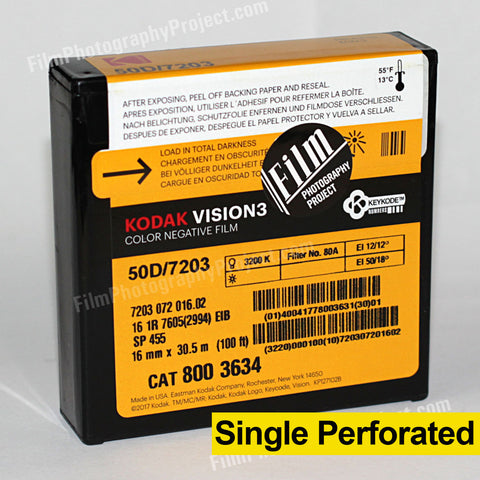 16mm Film - Single Perf - Kodak Vision3 50D 7203 - 100 ft
100 ft each roll (30m - Single Perf) on a 16mm Daylight Camera Spool
New, Fresh from Eastman Kodak and The Film Photography Project
KODAK VISION3 50D 7203 Color Negative Film demonstrates unrivaled highlight latitude, flexibility in post and proven archival stability. It also proudly touts the world's finest film grain to ensure a pristine, clean image that is full of color and detail , especially in high contrast daylight situations.
Store unexposed film at 13°C (55°F) or lower

Balanced for exposure with daylight illumination (5500K)

No filter corrections or exposure adjustments for exposure times from 1/1000 of a second to 1 second

Advances in grain & sharpness, plus increased exposure latitude, make this film ideal for recorder output
This 16mm film is for all 16mm cameras that accept a 16mm 100 ft daylight spool. (This film will not work in 8mm Bolex or other 8mm cameras). We do not accept returns on movie film.
The Film Photography Project can process/scan your movie film.
Visit our 16mm Process / Scan Page.
Terms – With the rare exception of a film product recall, user issues with film are a by-product of the deterioration of parts in the vintage cameras used to shoot the film. Even functioning and previously tested vintage cameras may experience motor film transport issues, film breakage, light leaks, over-and-under-exposure, and emulsion scratches. We feel it is important to bring your attention to these risks as we do not accept returns, offer replacement film or refunds on 16mm movie film. 
---
We Also Recommend