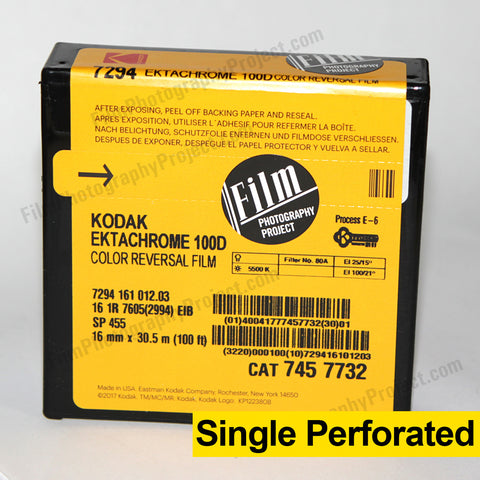 16mm Film - Single Perf - Kodak Ektachrome 100D 7294 - 100 ft
KODAK EKTACHROME 100D Color Reversal Film / 7294 


100 ft each roll (30m - Single Perf) on a 16mm Daylight Camera Spool
New, Fresh from Eastman Kodak and The Film Photography Project!
KODAK EKTACHROME 100D Color Reversal Film / 7294 is a 100-speed, color reversal motion picture camera film intended for photography under daylight illumination (5500K).
This 16mm film is for all 16mm cameras that accept single perf 16mm 100 ft daylight spool. (This film will not work in 8mm Bolex or other 8mm cameras). We do not accept returns on movie film.
Above: Kodak Ektachrome 100D footage shot by Michael Raso / Keystone A-12 camera
It is excellent for advertising, nature cinematography, documentaries, music videos, and is especially good for telecine transfers and television filming.
Base: KODAK EKTACHROME 100D Color Reversal Film / 7294 has an acetate safety base.
Exposure Indexes: Daylight (5500K) - 100 / Tungsten (3200K) - 252 Use these indexes with incident or reflected light exposure meters and cameras marked for ISO or ASA speeds or exposure indexes. These indexes apply for meter readings of average subjects made from the camera position or for readings made from a gray card of 18 percent reflectance held close to and in front of the subject. For unusually light or dark colored subjects, decrease or increase the exposure indicated by the meter accordingly.
More Tech Specs HERE.
The Film Photography Project can process/scan your movie film.
Visit our 16mm Process / Scan Page.
Terms – With the rare exception of a film product recall, user issues with film are a by-product of the deterioration of parts in the vintage cameras used to shoot the film. Even functioning and previously tested vintage cameras may experience motor film transport issues, film breakage, light leaks, over-and-under-exposure, and emulsion scratches. We feel it is important to bring your attention to these risks as we do not accept returns, offer replacement film or refunds on 16mm movie film. 
---
We Also Recommend