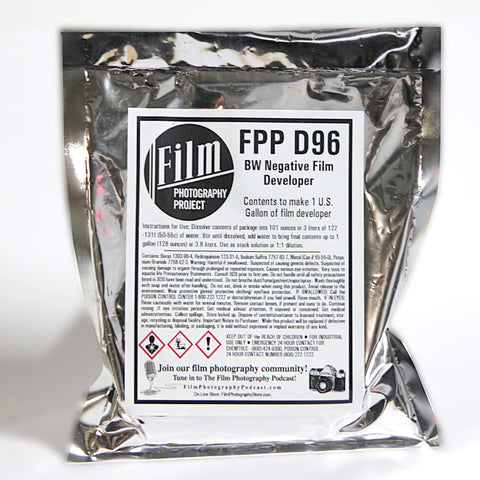 Darkroom Supplies - FPP D96 BW Developer (Powder to make 1 Gallon)
FPP D96 BW Developer (Powder to make 1 Gallon)
The Film Photography Project brings you FPP D96 BW negative developer powder in handy packages that makes 1 Gallon of developer when mixed with water. (You will also need FIXER to develop your film - not included). FPP D96 mixed may have a brown tint and may not fully clear - this is normal.
Long considered the go-to BW developer for the motion picture industry, D96 is a highly adaptable lower contrast film developer that enables you to increase the contrast by increasing your developing time or agitation.  We've tested this developer with cinema films like FPP Sonic25, FPP X2 (Eastman Double-X), FPP Blue Sensitive BW, ORWO Cinema Film and FPP LOW ISO BW and standard BW photography films like Kodak Tri-X, T-Max, Ilford FP4 and HP5 films to stunning results.
Powder Makes 1 Gallon of Developer
Long Shelf Life
Develop up to 50+ rolls
Average development time 7-8.5 minutes
We recommend the following additional products to develop your negs:
This developer has a very long life, when you mix the gallon, you can store it on a one gallon jug OR store it in 4 one quart bottles. If you store in 4 separate 1 quart bottles, as you use it and the contrast begins to lower, start a second fresh bottle, and save the first one for extremely contrasty lighting or films. We recommend using it as a stock developer, use it without diluting and pour it back into your quart container for re-use.
What about diluting and using as "one-shot"?
You can also dilute it 1:1, but make sure you use fresh, unused stock for this and do not reuse this combination, it is one-shot. This developer will begin to lose contrast with use rather than completely exhaust.

The package makes 1 gallon of developer, which is about a 50% savings over buying it by the litre and if you store it in 4 one quart bottles it's like getting 3 developers in 1, stock for re-use, stock for dilution for one-shot and a lower contrast bottle of used stock for hard lighting and high contrast films!

We are testing with many films but have found a lot to fall within 7 to 8.5 minutes. Massive Developing chart has a D96 developer option as well. Many report getting at least 50+ rolls from this quantity.

Here are starting times for some of our favorite films.

FILM                            ISO         TEMP        TIME
100Tmax                     100             68F           7 minutes & 30 seconds
400Tmax                     400             68F           8 minutes
TMZ3200                    3200           68F          12.5 minutes
FPP Low ISO BW       6               68F           7 minutes
FPP SONIC BW         25              68F           8 minutes
Ferrania P30               80              68F           9 minutes
X2 (Double-X)             200      68F           7 minutes & 30 seconds
400 TX                        400            68F           8 minutes
Orwo UN54                 100              68F            5 minutes & 30 seconds
Orca B/W Lomo          100       68F            6 minutes
FP4                             125              68F            8 minutes
HP5                             400             68F             9 minutes
FPP Blue Sensitive     6              68F              7 minutes & 30 seconds
Polypan F                    50            68F              9  minutes
Dracula35                   64             68F             8 minutes
Q: Do I need to increase development times as the developer ages?
A; From Leslie Lazenby
D96 is a little more bulletproof than other B/W developers. With use it only drops the contrast rather than overall image density. Personally I would not add the 15% per roll. I like to divide my gallon into 4 quarts when I mix it. I use one quart until the contrast looks a little lower, I then start a new quart. I keep the old quart for higher contrast lighting or film. I also keep one quart specifically for diluting 1:1 as I want full strength, unused developer for this purpose and treat the mixed working stock as one shot and do not reuse it. Watch you contrast rather than density to tell you when to change.

Q: I mixed up the developer and it is brownish. Will this affect my film or the development process?
A: Frequent FPP Podcast guest Mark O'Brien tested a batch and mixed, the solution was brown. Color did not affect the developer or the resulting film.
---
We Also Recommend