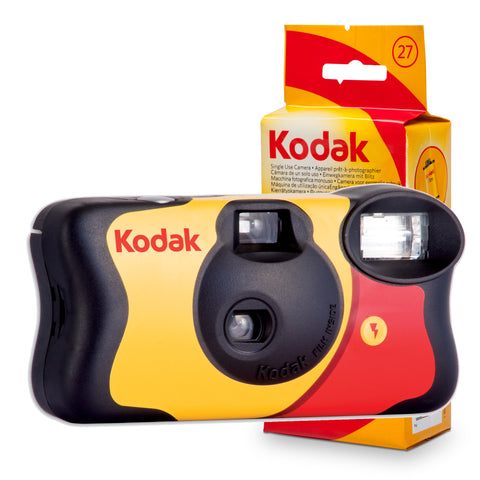 35mm Film Camera - Kodak Funsaver
Kodak FunSaver 35mm Single Use Color Camera!
Rated NUMBER 1 One-Time Use Camera by The Darkroom!
In-Camera Flash / 27 exp / 800 iso / Color (process C-41)
The FunSaver is a popular one-time use camera that's loaded with Kodak 800 ISO color film, so you know you're going to get rich, vibrant colors as well as exceptional details in your pictures. The flash enables you to shoot indoors or out, making the FunSaver 35mm the ideal disposable camera for parties, trips, or just about anywhere. Plus, the Kodak film means there's no memory card to accidentally erase.
Features
Loaded with Kodak Color 800 ISO 
27 exposure film for pictures with bright, vibrant colors
Built In Flash with 4 - 10 ft. range (must charge before every picture)
Process at https://thedarkroom.com/product/disposable-cameras/
---
We Also Recommend