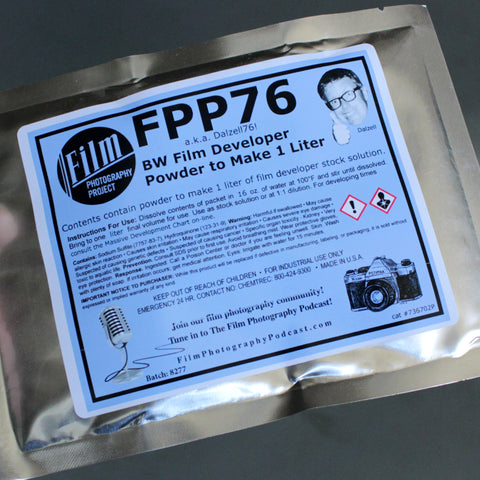 Darkroom Supplies - FPP 76 BW Film Developer (1 Liter)
FPP 76 BW Film Developer (Powder to make 1 Liter)
For Black & White Film

This product is a D76 equivalent in a convenient, small 1 Liter size.
Instructions on bottle or consult the Massive Dev Chart on-line using D76 as your guide.
We recommend the following additional products to develop your negs:
NOTE: You will need the basic darkroom tools - tank, beakers, etc. to develop your bw film. This is developer only. You will also need a fixer in order to develop negs using this product. If you're new to home developing you may want to order our FPP BW Home Developing Kit. Once your film is developed you will need a scanner to scan your newly developed negative. We recommend the Epson model v700 or v800.
How to Mix your FPP76:

Fill your 1 liter container with 1/2 liter of distilled water (room temp okay)
Carefully pour in your FPP 76 developer.
Cap and gently shake. Let developer mix with water.
20 min later add rest of water to make 1 liter. Mix and use when all mixed.
Do the same for the FPP 1 liter fixer.
FPP 76 is the same as D76
If you are using stock solution (not diluting), you will pour back your developer after development. Remember to squeeze out extra air.
Ditto for the Fixer.
---
We Also Recommend