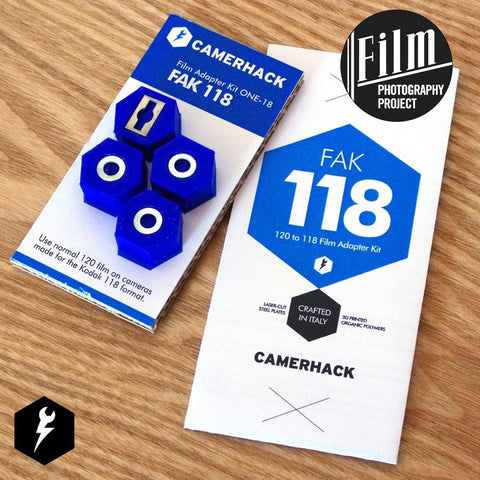 Adapter - 118 to 120 Film Adapter
118 to 120 Film Adapter!
Load 120 film in your vintage Kodak (or other) 118 film camera!
Designed by CameraHack and imported from Italy! 
Divertiti a scattare con la tua Kodak vintage!
Includes:

Four adapter pieces - Two for your 120 film and two for your 120 take-up.
One 120 take-up spool included.
The 118 Adapter is the Film Adapter Kit that let you load normal medium format 120 film in cameras made for the 118 film spools. We include a 120 take-up spool so there is no re-spooling involved. Simply apply the adapters, shoot and process!
With 120 film in a 118 film camera you'll get 6 panoramic-format photographs with a size of about 14x6cm (4¼ x 2½ inches).
This adapter features a stainless steel flange that perfectly reproduce the same hole that's in the original 118 spool flange. They are laser-cut out of a 1mm thick stainless steel plate.
The plastic parts are printed with a very solid PLA organic polymer, which is even stronger than the 120 spool material itself! Note that your adapter color will vary from the one pictured.
Adapters are very sturdy - do not force them or use the wrong end. We import this product from Italy, so adapters are not refundable and we will not replace adapters that you break.
Enjoy shooting!
---
We Also Recommend