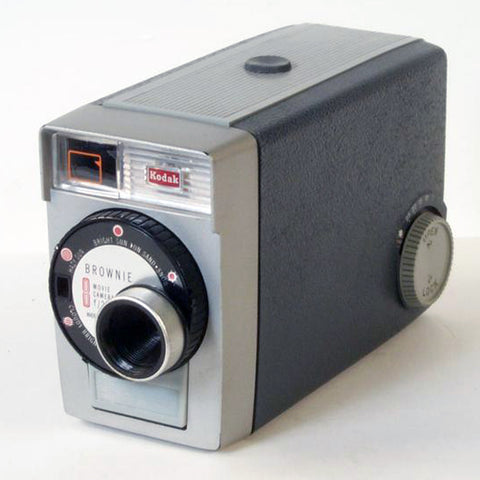 Regular 8mm Movie Camera - Kodak Brownie 8 (Vintage - Grey)
Kodak Brownie 8mm Movie Camera (Grey Color)
Fully tested. Ready-To-Shoot! Includes take-up spool. Film sold separately.
The Brownie 8, 8mm movie camera was one of the early plastic bodied Kodak movie cameras. It is a quality clockwork-driven camera with a fixed-focus f/2.7 13mm Kodak Cine-Ektanon lens. The exposure is set using the dial around the lens, either by f/number or symbols for the light conditions.
Included:
Kodak Brownie 8mm Camera*
Uses Regular 8 (a.k.a. Double 8 / Cine8) film. Not included but available here.
*Camera may not ship in original box as pictured and does not include instructions. Download the camera manual HERE.
Questions? Ask Mike Raso - Michael@FilmPhotographyProject.com
Camera will only shoot Double 8 film - Camera will not shoot Super 8 or 16mm film.
MANUFACTURER: Kodak USA
INTRODUCTION DATE: 4/60
STANDARD LENSES: Cine-Kodak Ektanon 13mm f/2.7
SPEED: 16 frames / second
SHUTTER: 1/30th Sec
VIEWFINDER: folding Sports Viewfinder
FILM: 8 mm (Order 8mm Movie Film HERE)
HOW TO SET YOUR F-STOP
We recommend using hand-held light meter, light meter app or Black Cat Exposure Guide based on the film ISO you are using and the 1/30th sec shutter speed. (Please DO NOT use the guide on the camera lens. The guide is for film ISO that is no longer available)
After processing  this gives 50 ft. of film (about 4 minutes showing).
Spring-driven, smooth and quiet running. When fully wound it will expose feet of film, with a positive "cut-off" at end of run. Fast crank-wind handle folds neatly away when not in use.
Footage Meter: Sets automatically when film is loaded into camera 
8mm Film Processing Scans from The FPP!
Please note that this camera is tested before shipping to you.. Camera is vintage and may have a few scuffs and/or physical imperfections. Camera may not ship in original box. These imperfections will not affect performance. Due to the cameras age, we can not guarantee the life of the camera motor. 
---
We Also Recommend