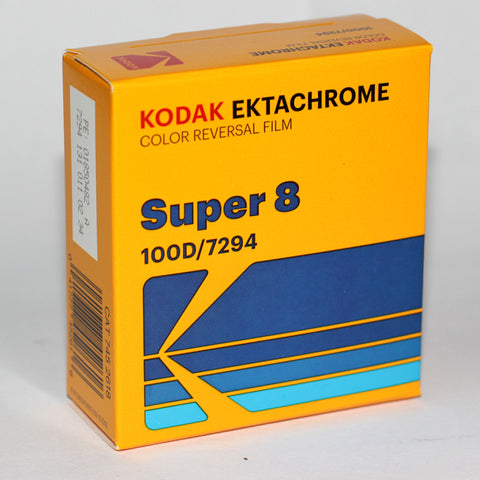 Super 8 Film - Kodak Ektachrome 100D Color Positive Film
Fresh, color positive Kodak Ektachrome Super 8 film - One 50 ft Super 8 Cartridge
Due to the age of vintage cameras, we do not accept returns on movie film. Please read our terms (listed below) before purchasing.
The perfect film for projecting onto a screen (or scanning to a digital file)
Film price does not include development / scan (available here).
SAVE $$$ by purchasing a Film-Develop-Scan BUNDLE (Available HERE)
KODAK EKTACHROME 100D Color Reversal Film - Super 8 offers moderately enhanced color saturation while maintaining a neutral gray scale and accurate skin tone reproduction. It has exceptional sharpness with excellent grain performance. It offers strong reciprocity, uniformity, and keeping stability. Excellent for advertising, nature cinematography, documentaries, and music films. It can be scanned or projected.
Terms – With the rare exception of a film product recall, user issues with film are a by-product of the deterioration of parts in the vintage cameras used to shoot the film. Even functioning and previously tested vintage cameras may experience motor film transport issues, film breakage, light leaks, over-and-under-exposure, and emulsion scratches. We feel it is important to bring your attention to these risks as we do not accept returns, offer replacement film or refunds on Super 8 movie film. 
---
We Also Recommend