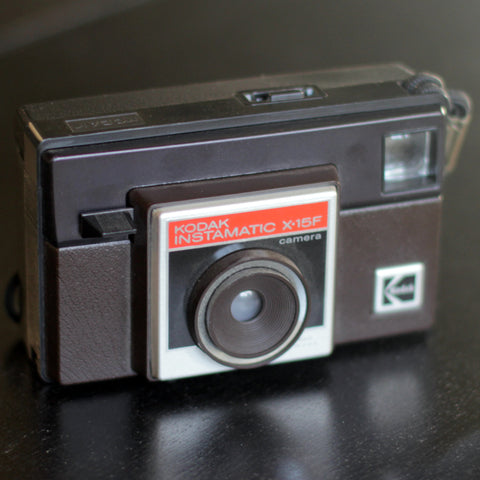 FILM CAMERA - 126 Kodak Instamatic X-15F (Vintage - Tested)
The Kodak X-15F camera takes 126 cartridge film and was introduced in 1976 and manufactured through 1988.
This popular Instamatic is battery free and uses a Flip-Flash for flash photography. NOTE that 126 cartridge film is no longer manufactured but you can use expired film (from ebay) or 35mm film with our Do-It-Yourself Adapter.
Included:

Camera: Vintage and tested by Michael Raso
One Flip-Flash.  (Additional Flip-Flash bars can be purchased HERE.

Film not included but can be purchased HERE.

Camera Specs:
Please note that this camera is fully tested and is guaranteed by The (FPP) Film Photography Project for 15 days. Camera is vintage and may have a few scuffs and/or physical imperfections. These imperfections will not affect performance. Due to the cameras age, we do not grade the lens glass, inspect seals or test shutter accuracy.
---
We Also Recommend