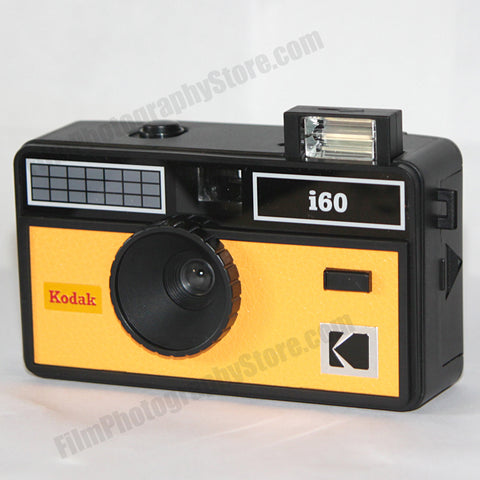 35mm Film Camera - Kodak i60 Reusable Camera with Flash (Yellow)
KODAK i60 REUSABLE 35mm CAMERA with Flash - YELLOW
** Please watch our video and see notes at bottom of page before purchasing

Capture your memories with this new, reusable film camera from Kodak that uses 35mm film! It's looks are based on the vintage design from the KODAK INSTAMATIC 100, which was the first instamatic model released in 1963.
 The i60 has a fixed focus lens, manual film winding and rewinding, built-in pop-up flash and uses 35mm film. Simply purchase a roll of 200 - 400 iso BW or Color 35mm film - load it in, take your photos, rewind and have the film roll developed at your favorite lab  (like TheDarkroom.com)!
Lens: 31mm, fixed at f10
Shutter: 1/125 sec
Focus: Fixed (4 feet to Inf)
Operation: Manual Wind and Rewind
Film: Uses 35mm Film (ISO 200 - 400 Recommended - Not included)
Flash: Built-In Flash (1 x AA Battery Not included)
You may need patience and time to "get the knack" on how to load your camera. Please see video above. Please read camera usage notes at bottom of page.


**Notes

Please handle camera carefully. Camera can easily break if you FORCE rewind your film. If you do, it will BREAK. This item is not returnable.
Do not advance your film past the number of exposures. Doing so will jam your camera making rewinding difficult.
---
We Also Recommend