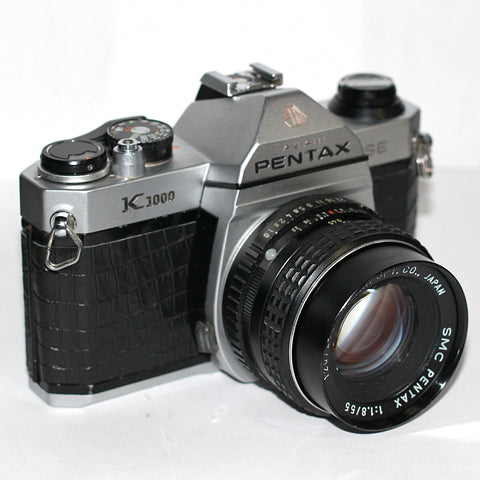 35mm Film Camera - Pentax K1000 SLR / 50mm f2 + (Vintage Kit)
Vintage Pentax K1000 35mm Single Lens Reflex Camera! Voted FPP Camera of the Year for the last 14 Years!
Camera is pre-owned, fully tested by FPP's Michael Raso and ships with new batteries and ready to shoot!*
Included:
Pentax K1000 Camera 
Camera tested (with new battery installed)
Pentax 55mm f2 lens
Promura 80 - 200mm Zoom Lens
Vintage Bag
Download the Pentax K1000 manual HERE.
Hitting the scene in 1976, the Pentax K1000's intuitive design, sleek form factor, and modest price point captivated photographers world wide. After being in production for over 30 years, and with 3 million+ units sold, the Pentax K1000 has been labeled by many as the sturdy "workhorse" of the 35mm world. But just what is it that makes this camera stand out from all other 35mm SLR's? Let's have a look at the specs:
    Fully mechanical SLR
    TTL metering system, powered by readily available LR44 batteries
    

Camera operates without batteries (battery powers light meter)

    Wide range of shutter speeds, 1/1000 - 1sec. and Bulb
    ASA Range from 20-3200
    Hot shoe with flash sync @ 1/60th sec.
    Accepts all Pentax K-mount lenses
TERMS: Please note that this camera is fully tested. Camera is vintage and may have a few scuffs and/or physical imperfections. These imperfections will not affect performance. Due to the cameras age, we do not grade the lens glass, inspect seals or test shutter accuracy. Due to age, we do not guarantee operation after our initial tests and we do not except returns.
---
We Also Recommend